The KinShip Project – Climate Action & TVP, Cork.
Below is an interview published on RTE's online site earlier this year with artists Sean Taylor & Marilyn Lennon (LennonTaylor) introducing The KinShip Project.
---
Sean: When Creative Ireland put out a call for projects for their Creative Climate Action Fund, Marilyn and I were immediately interested as we'd been looking for an opportunity to work together on a creative project of this nature. As creative collaborators, we know we work well together as we jointly developed and ran a master's programme in socially engaged art practice for over 10 years.
In 2021, the Kinship Project proposal – developed by us as LennonTaylor in partnership with Cork City Council – was one of fifteen successful recipients of the new fund. The fund was initiated to support creative, cultural, and artistic projects that build awareness around climate change while also empowering citizens to make meaningful behavioural changes. We were truly excited to win this award, as it gave us the opportunity to put into practice our unique way of working, addressing the realities of climate change and its consequences for all of our lives.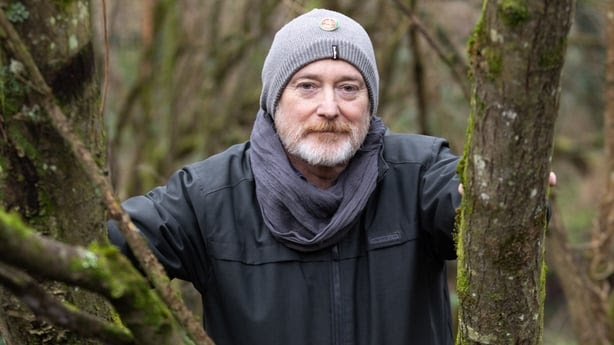 From the onset of this award, both Marilyn and I were keen to change the perception of the park as just another civic amenity space or resource that serves a community. We asked ourselves; "What if we started to listen and change our thinking about this park? Could the park become a place for all sorts of activities offering new and creative approaches to improve the quality of life and biodiversity in the park, and by extension the city of Cork?"
I think about the various hidden histories and narratives of Tramore Valley Park as a work of unfolding social theatre, or a series of dramatic acts. Act one imagines the original site known locally as Carroll's Bog, an untamed natural environment with a healthy ecosystem attractive to varied flora and fauna. Act two charts the development of the landfill site in the 1960s lasting some 45 years, absorbing over 3 million tonnes of waste from Cork homes and businesses. Act fhree in the life of the site sees the opening of Tramore Valley Park to the public in 2019 with its new walkways and trails, an all-weather events/amenity area, a grass pitch, an international standard BMX track, an outdoor gym, a sports pavilion, a wetlands area, and a raised dome of grassland sitting regally on top of our waste providing a 360-degree sentinel view of the city. The potential of the KinShip project to think about a fourth act for the park is a challenge of the imagination in this era of climate change, and for all of us who will be involved in this exciting project.
Marilyn: My first memory of the place now known as Tramore Valley Park comes from leaving Cork city on trips to Kinsale for the day as a student. The city dump felt like it was on the outskirts of the city then. I remember huge clouds of white and grey seagulls floating high up above, swooping down to all the industriousness of the equipment managing the waste below. It's incredible to walk Tramore Valley Park now and reconcile the two.
Thinking about the recent history of the park, we first became really excited about the unfolding story of two disparate types of places, a landfill site, and a public park, layered onto one space. On the one hand all that waste buried underground, a complex engineering project and record of over forty years of consumption, and on the other hand the human endeavour to create a public park, a space that exists because of the cooperation of human management and natural rewilding. Amy Marris writes about the Post Wild World– she says we can't just rely on saving pristine natural places, we must learn to cultivate and nurture the wild things. The idea of kinship with nature is not new, but in our modern urban lives we unlearn some habits, habits that cultivate respect and interdependence with a full range of biodiverse life. The KinShip Project aims to reconnect us to plants, animals, insects, water, and air through creativity, community, and the imagination to develop a kin-like connection.
Over the next year, the KinShip Project will generate public conversation about what our values are, as a starting point to action. Since in the park we'll be walking over an archaeology of Corkonians' thrown-away things, part of those conversations and actions will include exploring possibilities around personal and public waste management. One of the seven local partners on the project is the MTU Clean Technology Centre who are bringing their expertise on waste control to the work, along with Cork Nature Network, Cork Healthy Cities, Cork UNESCO Learning Cities, Green Spaces for Health, and UCC's Environmental Research Institute. This network of partners holds huge expertise and are a channel to support anyone who would like to participate in some way in the KinShip project.
Sean and I have created a project that invites collaboration and participation throughout 2022. For example, through a citizen-led programme called 'Becoming Kin', we hope to create a culture of exchange in the park where anyone can offer to lead a walk, talk, demonstration or workshop by filling out an expression of interest form on the KinShip Project website. There are 34 slots including the last Sunday of every month starting in February with a winter nature walk in the park by Cork Nature Network.
Over the next year, The KinShip Project will also be host to artist placements, an open call EcoLab design and build competition. We're also inviting collaboration on a series of creative activities, documented by the KinShip Midden Chronicles, all of which are aimed to grow a new type of relationship with this public park and to cultivate and nurture the wild things.
For more information on how you can get involved in The KinShip Project, or to register for a free event, go here.